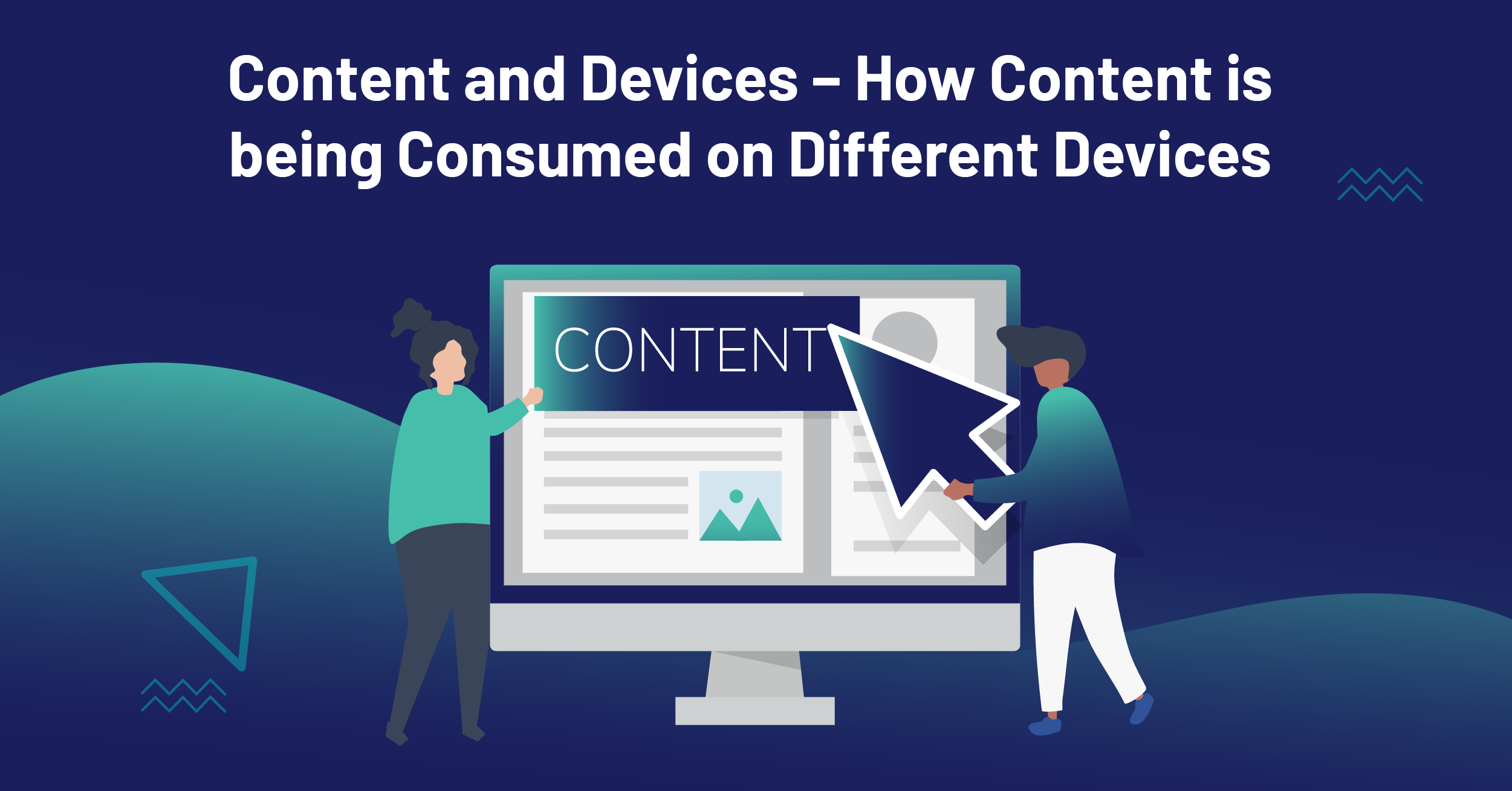 September 4, 2019

RecoSense
With a plethora of technologies available in the market, there has been rising pressure on the brands that aim to fulfill their customers' vivid needs wherever they are. And they are located in any corner of the world. They are skilled with various digital technologies and demand promising experiences throughout all touchpoints which have arisen from emerging channels and digital platforms.
But as some of the technologies that are already making a splash such as virtual reality, it is still considered to be from the early days from the consumer adoption viewpoint. Nowadays the wide variety of consumers are still depending on more traditional digital channels such as social media, email, and mobile apps for satiating their content requirements.  And we need to understand how fast the consumer content consumption patterns have changed over the years? How content and devices are co-related in content consumption? 
This article is all about which one needs to go through in detail:
Digital Landscape is Constantly Changing
Do you Know?
90% of all interactions happen through screen-based.
More than 70% of digital consumers access the Internet throughout multiple devices.
84% of digital marketers believe that the entire cross-device framework is crucial for success.
Average total time spent on following devices on an average day per minute
Smartphone – 170
Computer – 120
Tablet – 75
Top-performing trending activities on sequentially screening between devices:
Internet Browsing: 81%
Social Networking: 72%
Online Shopping: 67%
Information Searching: 63%
Managing Finances: 46%
Planning for Trip: 43%
Video Watching: 43%
Types of Connected Devices for Users Content Consumption
Let's take a look at the most prevailing forms of connected devices are:


(1) On Mobile/Smartphone
With Android and iOS phones, consumers have easy access to all forms of content ranging from news, sports, entertainment, games, live events, etc. A downloading app within seconds leads the consumers to resolve their day-to-day pertaining issues such as paying electricity bills, mobile recharge, DTH bills, ordering food, cab booking, grocery, and electronic shopping at online marketplaces.
It is undeniable that the infusion of various digital technologies has empowered the growth of various content formats such as social, video, memes, etc. As per the latest study, consumers devote an average time of 8.8 hours a day, engaging themselves with digital content. This gives rise further to two to more hours with the younger generations i.e. Gen Z spends 11.4 hours and Millennials spend 10.9 hours on digital media on an average. What else, these generations are devoting their maximum time-consuming content on mobile devices, and usually more than one, with more than 25% of Millennials using multiple devices i.e. three or more devices at once to engage themselves with digital content, that means an increase of 130% year over year(YOY). It means the content consumption pattern has crossed a milestone with the advancement of mobile technologies and digital platforms.
2019 is yet to see certain prolific changes with the rate of the growth of 4G networks to 5G as compared to the growth in wired connections and Wi-Fi access. As per the recent report, the Internet-enabled mobile phones is expected to touch 700 Mn in 2021. It means the mobile has remained the most primary choice for Indians when it comes to their digital needs.
Usher in the New Era of Smartphones
News Personalisation is the next big term which has been commonly adopted by News networks that fulfill the need of the consumers subject to their search history. Apart from this, cognitive technologies such as machine learning, artificial intelligence (AI) and natural language processing (NLP) are also distorting the content consumption space for mobile phones.
Mobile applications are now gathering insights using AI by tapping social media, geo-location data, search trends, and other digital trends. Due to this, consumers have now easy reach towards personalized web layouts in short content forms. Content is also being provided to many users in various formats such as videos, text, and photo galleries.
Such upgrading feature in the content offering is providing a new user interface which makes the user experience richer, cleaner with new add-on features to assist in discovering and reading books, articles, comics, watching videos, and much more. In this manner, mobile content apps are steadily emerging from being a single-faceted to multi-faceted.
(2) Casting on TV/Smart TVs
Casting your mobile device on TV/Smart TV through chrome cast offers uninterrupted streaming media via your Internet.
SmartTVs akin to smart home devices and smartphones, provide internet support and connectivity from a range of apps. This opens the doors of various forms of new entertainment options, from live streaming video to playing games, navigating social media, and taking charge of entire connected gadgets which puts the devices such as Alexa and Google Home-compatible products on work.
On top of that, underestimating per GB data costs and rising Fiber connectivity to the premises will further prompt the adoption of using Smart TVs in India.
Smart TVs are now permitting the consumption of OTT (sometimes referred to as VOD) content over big screens and family sharing. VOD or OTT calls in action when one wants to:
stream video at their preference (no scheduled programming)
stream on multiple devices
watch for free or paid
get it delivered via the internet
(3) Casting on PC/Laptops 
Personal computers and laptops are witnessing a series of rapid downward trends in ownership, internet usage, and relevance over the last three years. The online activities which were once a trend on PC/Laptops have now been substituted or augmented by the smartphone.
56% of the users who use both a computer and a smartphone consider the computer for playing games, while 71% prefer using the smartphone. This wasn't the scenario in 2015 as the smartphone wasn't advanced enough to contain complex game graphics and functions.
Conclusion 
As per the Global Web Index Online Study 2019:  Smartphone is the most preferred choice over PC or tablet. 96% of users browse the Internet on the smartphone as against 93% surfing the Internet on PC. When it comes to streaming of videos like movies, shows, events, and news, etc, it has been observed that millennials prefer watching online content instead of TV.
Mobile is the most preferred device for watching online videos. Online video consumption growing year on year and primarily on the back of mobile phones. With reference to the KPMG report, Let's have a look into the video statistics who are watching in India?
The relatively older demographics (35-55) spend equal or more time watching videos online than the average time spent on online video viewing.
| | | | | | | |
| --- | --- | --- | --- | --- | --- | --- |
| Age Group | 15-19 years | 20-24 years | 25-34 years | 35-44 years | 44-55 years | Average |
| Time spent in hours | 1.25 | 1.29 | 1.24 | 1.33 | 1.27 | 1.27 |
Small towns with a population of less than one lakh are spending more time watching online video content.
| | | | | | | | |
| --- | --- | --- | --- | --- | --- | --- | --- |
| Population of Town | Metros | 40 lakh + | 10-40 lakh | 5-10 lakh | 1-5 lakh | <1 lakh | Average |
| Time spent in hours | 1.25 | 1.14 | 1.27 | 1.11 | 1.41 | 1.44 | 1.27 |
The lowest socioeconomic classes spend a significantly higher share of their time watching online videos.
| | | | | | |
| --- | --- | --- | --- | --- | --- |
| Socio-Economic | Sec A | Sec B | Sec C | Sec D/E | Average |
| Time spent in hours | 1.18 | 1.25 | 1.19 | 1.59 | 1.30 |
The cross-section behavior in terms of consuming content categories on different devices has been recorded as under:
| | | | |
| --- | --- | --- | --- |
| Content category | PC | Tablet | Smartphone |
| Health | 50% | 5% | 45% |
| Games | 15% | 24% | 61% |
| Retail | 47% | 14% | 39% |
| Social Media | 28% | 11% | 61% |
| Radio | 5% | 16% | 79% |
| Weather | 31% | 9% | 60% |
| News | 55% | 6% | 39% |
| Sports | 56% | 6% | 38% |
Smart TVs are also the next preference for OTT consumption content over big screens. With the data furnished through AI, OTTs can utilize every facet of the content ecosystem – ascertaining why or when customers gaze through their eyeballs towards particular programming. The more information available in gritty, the more content can be accommodated to make the video more pleasing for viewing purposes. The ability to optimize AI for customized content and brand experiences act as a medium to offer perspective insights to individual audiences.