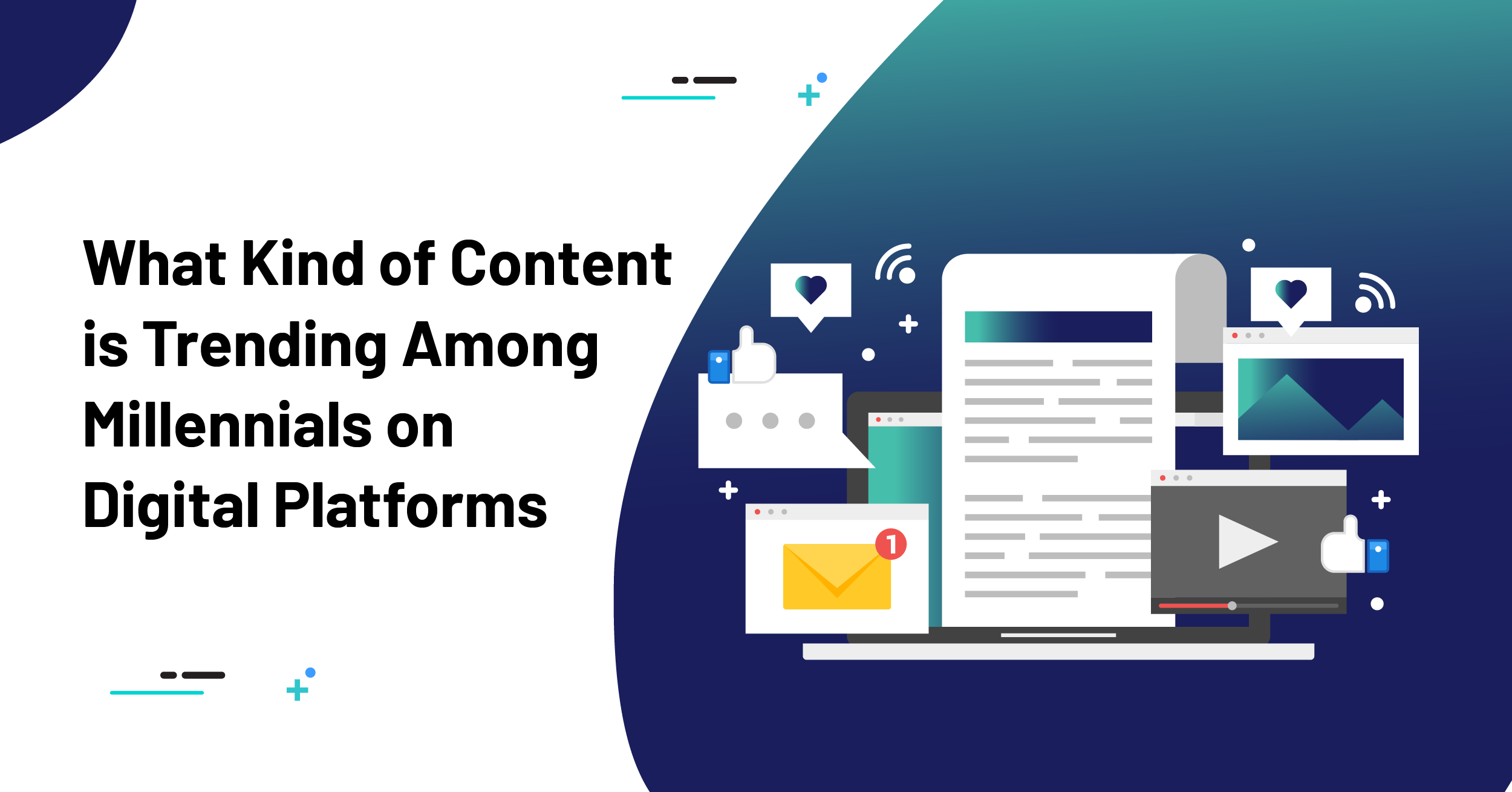 According to a study by eMarketer, 64.8 Mn millennials are expected to watch digital video at least once in a month. This figure is expected to rise year over year across the globe. Research studies are increasingly suggesting that millennials are moving away from traditional TV and learning more against digital media platforms. The evolving number raises the question of what are the content trending among millennials? Why are they moved from traditional tv to digital media platforms?  & the same research pointed out that video consumption numbers are steadily growing from 64.2 Mn in 2018 to 64.8 Mn in 2019, and 65.1 Mn by 2020.
But, what are they necessarily into? Let's delve into types of content trending among millennials  on digital platforms
News:
Millennials follow different styles of watching videos and reading articles online compared to generation X and baby boomers. The most popular type of content is News and millennials prefer to watch online videos to stay up to date in this competitive world. 94 % of millennials in the US are more comfortable using smartphones for all their content browsing needs. The content consumption again differs from male to female but the most challenging part is to enable millennials to find what the content they are looking for. Incorporating user persona will help to target the customers and to deliver the personalized content.
Entertainment:
Many on-demand streaming platforms launched recently and focus on non-English content exclusively original shows, movies, live events, TV series, and entertainment content, etc. Digital platform helps millennials to watch the content as per the convenient time and the content what they are interested in. In the US entertainment is the content trending among millennials they prefer to watch live events and other entertainment content like comedy shows etc on weekends.
Sports:
Millennials watch sports? Yes, millennials watch sports but the content crave for millennial is different from the traditional way, millennials also like to watch sports documentary movies digitally to know the history of the real show. 65% of US millennials say they binge-watch blocks of videos at least once a week. The number of millennials watching the NFL increased compared to previous seasons. Sony India's, SonyLIV is also not behind by providing live streaming of football tournaments like the UEFA Champions League, La Liga, Serie A, Ligue 1, UEFA Europa League, etc. If we connect and engage millennials with relevant sports content digitally to have a cohort of sports fans in hands.
Apart from these categories, The content trending among Millennials is entrepreneur content, fiction content, and product-related videos, etc on the digital platforms.
Live Streaming Content:
According to the Recording Industry Association of America, 75 percent of the music industry's revenue comes from streaming. It is also expected that the role of video streaming will continue to expand in the music industry. Before live-streaming, even sports fans had only two choices for live viewing: either buy expensive tickets to attend events or watch limited sportscasts on TV. Now, with over-the-top sports, fans have convenient and affordable access to local and international sports events.
With live video and viewers poised to stream, share, and engage with sports worldwide, content providers can enhance the overall experience with contests, special promotions, fantasy experiences, continuous interaction, and more.
Live streaming allows for media delivery by scaling to millions of users without compromising on the quality viewers expect. It's no surprise that live streaming content is enabling music, sports, and event live content delivery through popular demand. The proliferation of digital media platforms has led millennials to ditch the traditional television and find what they love to watch, over the Internet.
But, are they effectively able to find all the media they would like to consume?
The challenge of discovering the right content is real. Over half of the consumers, 55 percent, are searching for a new movie to watch at least one every week. And 83 percent of consumers are searching for their favorite kind of content a few times each month. But, nearly two-thirds of users are struggling to find something that sparks their interest. These statistics come from a new report from PwC- which surveyed 1,000 digital media consumers between the ages of 18 to 64 and asked about the challenges they face in discovering the content of their interest.
The survey reported that 79 percent of consumers had watched a movie or TV show solely based on the recommendations of their content service, and 90 percent said they liked what was recommended to them.
If entertainment and media companies are to win the digital race, they need to focus on a critical pillar- content discovery. AI and analytics can help media companies make relevant content discoverable for their target audience. Content recommendation and personalization are key components of a successful media distribution strategy.
MediaSense is a product that employs artificial intelligence to personalize the experience for consumers and recommend content to them based on many factors. By doing so, you can enhance the experience of your consumers and make them stick around longer while offering content that interests them.
You might also like
RecoSense