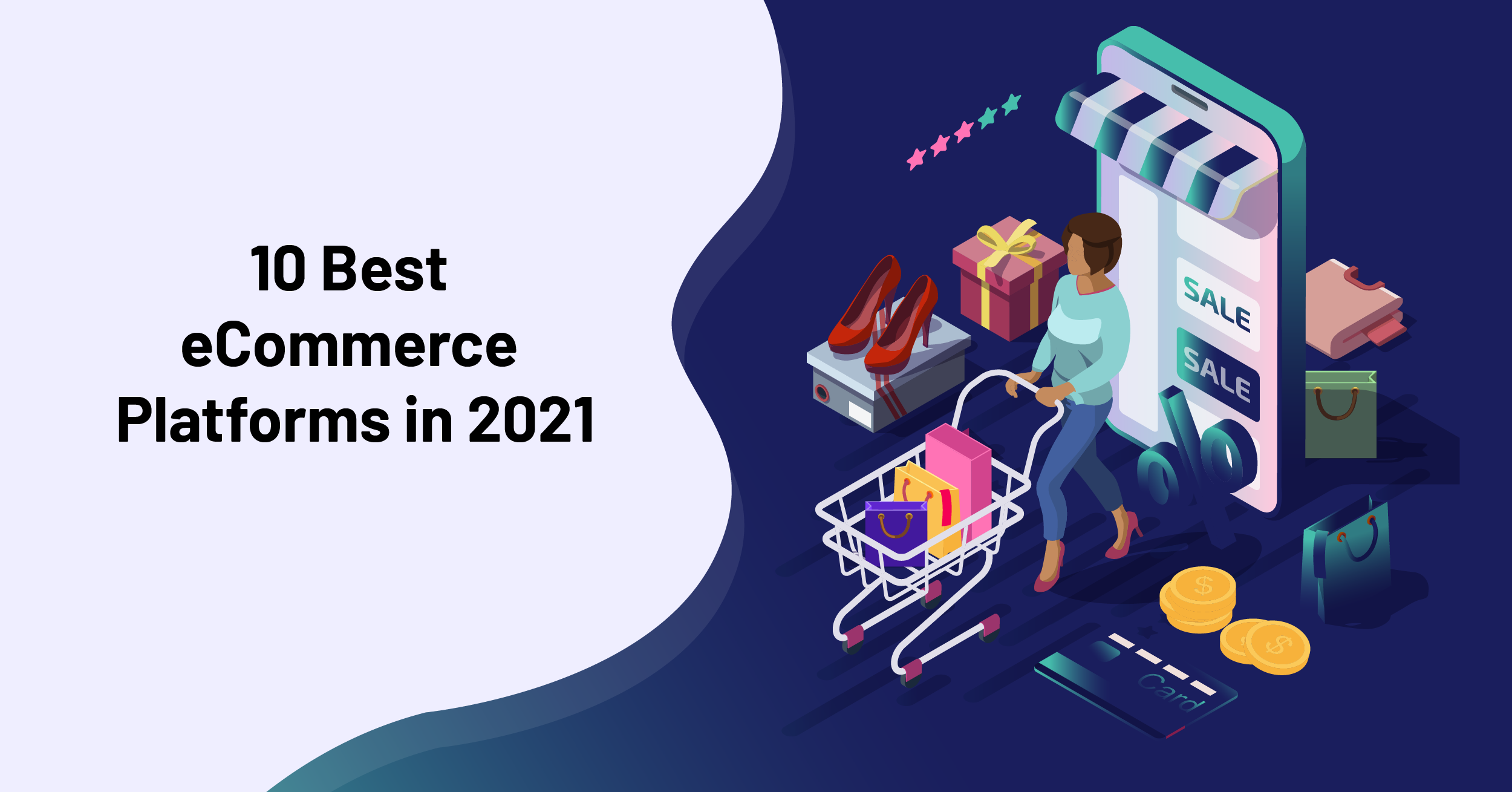 September 14, 2021

RecoSense
In this constantly expanding digital world, you need eCommerce support more often. When you are in a business that's growing or starting a new one, eCommerce platforms may prove to be one of the elementary supports that provide you with a kick start.  
Choosing the best eCommerce platform for your business is crucial for pacing up its success. The presence of multiple platforms around you may create distractions, preventing you from selecting the right fit for your business. After all, making an informed decision requires time, effort in research, and a lot more. 
No worries! This list of the 10 best eCommerce platforms not only enables you to select the right option but will also save you some precious time, allowing you to focus on increasing your business potential. Let's get started! 
10 Best eCommerce Platforms
1. BigCommerce
Developed way back in 2009 in Austin, Texas, BigCommerce emerged as one of the most known eCommerce platforms in the US. It provides high scalability, which caters to stores of different sizes. 
BigCommerce benefits its users with various outstanding features such as a robust product search engine, flexible shipping, point-of-sale solutions, and customized access to third-party apps.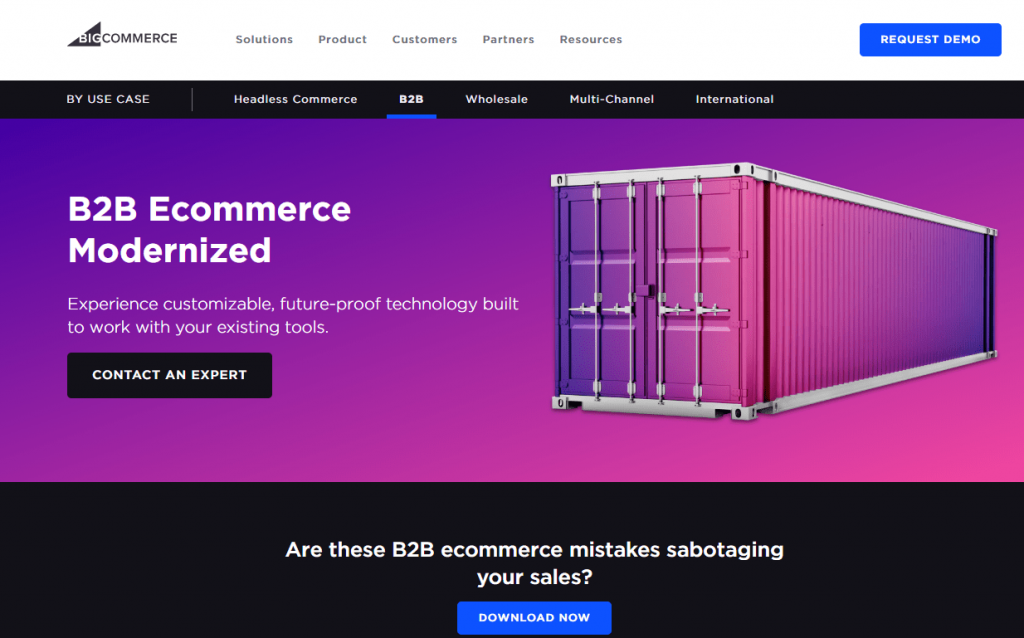 Pros
30-day trial

United with Paypal and supports various currencies

Splendid themes and designs

99.9% uptime guarantee

Robust SEO execution
Cons
Expensive for stores with a high volume

No 1-click upsells
2. Shopify
Launched in 2006, Shopify strives to provide eCommerce solutions for small businesses by boosting their online presence.
Setting up a brand new Shopify store gives you access to many of the platform's core features like customizable designs, catalog creation, flexible payment methods, and much more. Other elements like social media integration and an automated shipping scale can greatly enhance the user experience.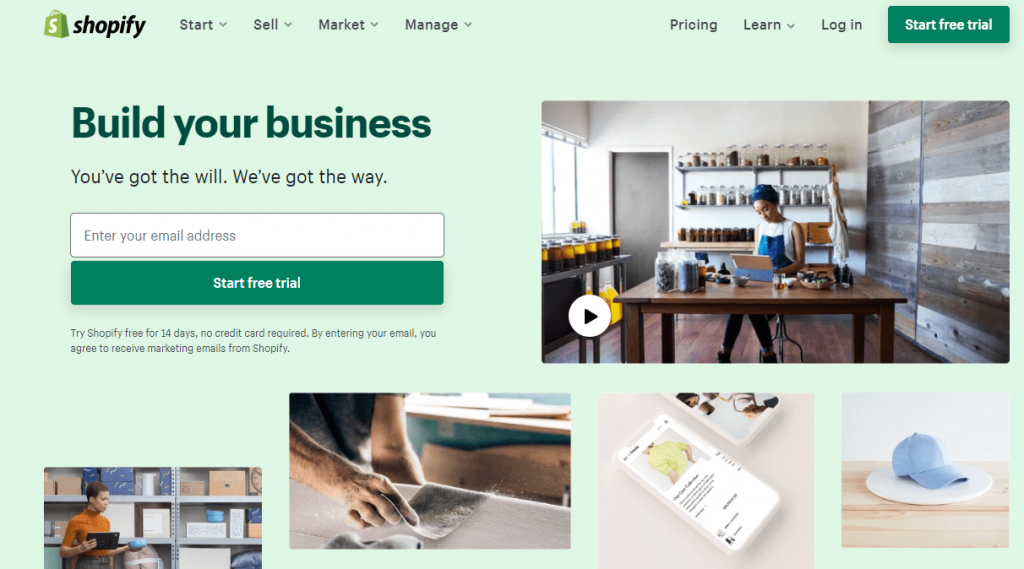 Pros
Easy setup

Associated with certified partners

Allows 1-Click selling

1000+ inbuilt Shopify Themes and Templates

Splendid themes and designs

14-day trial

24/7 support
Cons
Poor SEO performance

The checkout process is not customizable

Lacks advanced features
3. WooCommerce
WooCommerce, a wonderful option for both small and large stores, was launched in 2011. It is one of the most common website makers around the globe. WooCommerce offers features like Google Analytics, Drop-Shipping, Real-Time Shipping, SEO Tools, etc.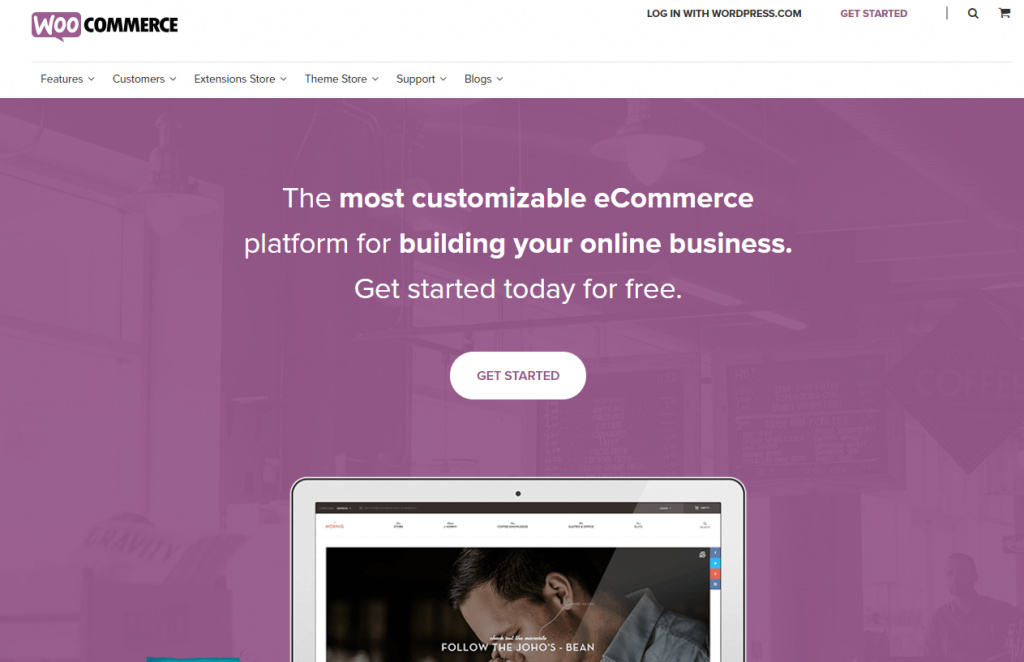 Pros
Great SEO performance

Improved features for large stores

Provides video tutorials

Customizable with integrated services
Cons
Self-hosting is expensive
4. Salesforce Commerce Cloud
Salesforce is known for its CRM solutions. It launched its eCommerce platform called Salesforce Commerce Cloud crafted for both B2B and B2C dealers as a part of its product suite. 
Salesforce Commerce Cloud's core features entail CRM and marketing services. Its improved CRM solutions help you connect with your customers and maintain a prosperous relationship with them.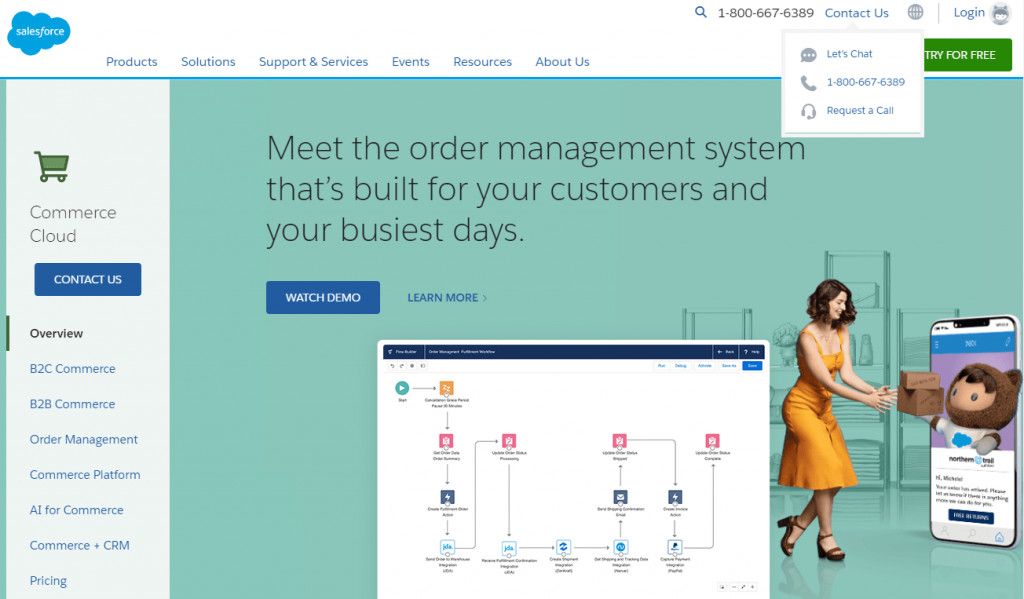 Pros
Integrates many CRM and marketing services

Globalization solutions for international businesses

Advanced order management

Commerce personalization with AI

Category wise business solutions
Cons
Not suitable for small business owners

Costlier

Complex technological requirements
5. Volusion
Volusion is an easy-to-use eCommerce platform to construct your online store. This cloud-based platform features built-in SEO tools, the system for tracking inventory levels, drop-shipping, integration with Amazon Marketplace and eBay, etc.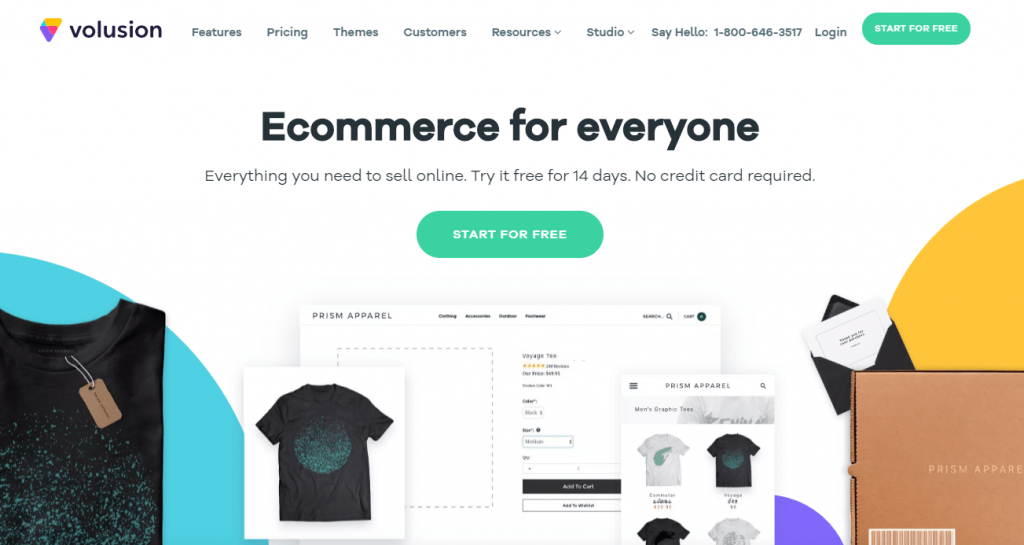 Pros
Real-time tracking of stock level

User-friendly Interface

Abandoned cart

 feature 

Allows automated payment
Cons
Limited bandwidth

Not a wide variety of themes and design options
6. Wix
Wix Marketplace is among the most popular platforms operating globally. Leading around 110 million sites around the globe, it's a great platform that provides eCommerce solutions for small business owners and established businesses as well.
At Wix, you would enjoy fantastic features like Wix Editor with a varied range of templates, automated shipment options, abandoned cart recovery, drop-shipping options, etc.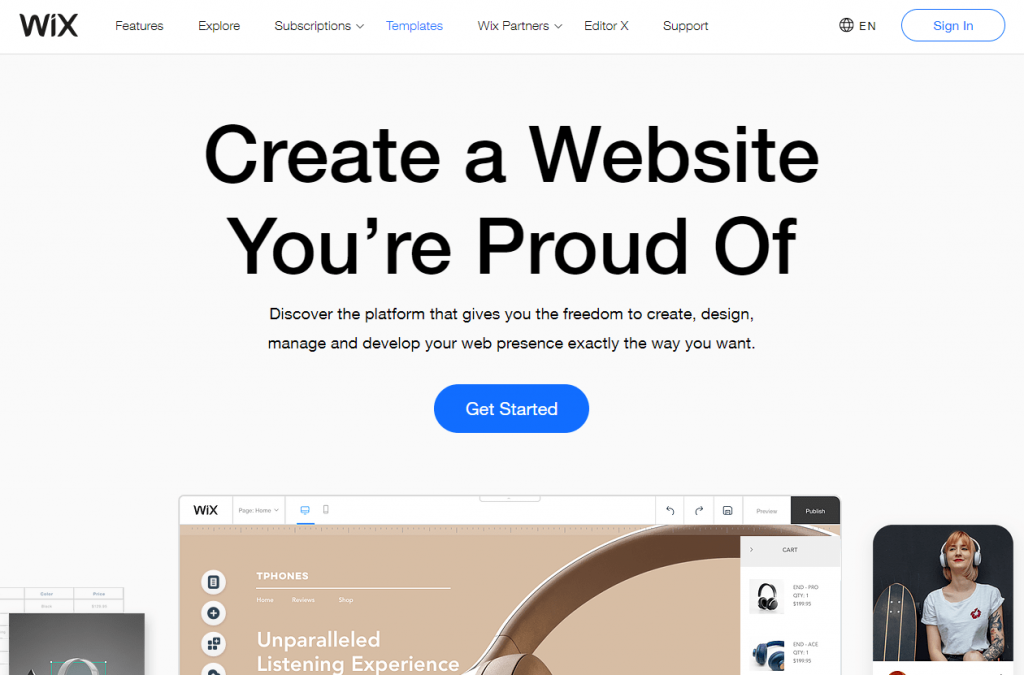 Pros
Great tools for customization

No sales fees

User-friendly
Cons
Slower loading speeds

Confined upselling tools
7. Squarespace
Squarespace is a preferred option if you are setting up a small e-store. With its customizable eCommerce platform and user-friendly experience, it is empowering around 1.8 million sites in total.
If you choose Squarespace, you unlock various benefits with its features like outstanding designs, analytic tools, automated emailing, inventory management, customized sales taxes, and much more.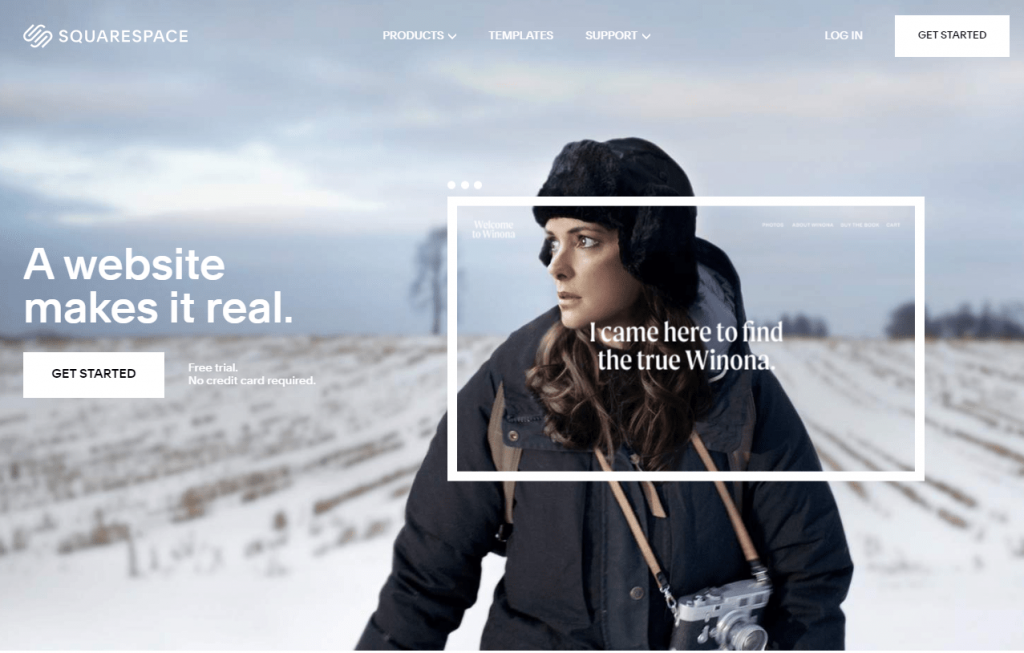 Pros 
Easy to use/setup

Digital/physical product selling
Cons
Confined eCommerce integrations
8. Magento Commerce
Looking to set up an e-store for your large and established store? Then Magento is perhaps a perfect choice for you.
As core features, it offers more than 5000 extension tools, inventory management, sales channels, analytics, etc. With its customized shipping and checkout options, you can create a store as per your business requirement.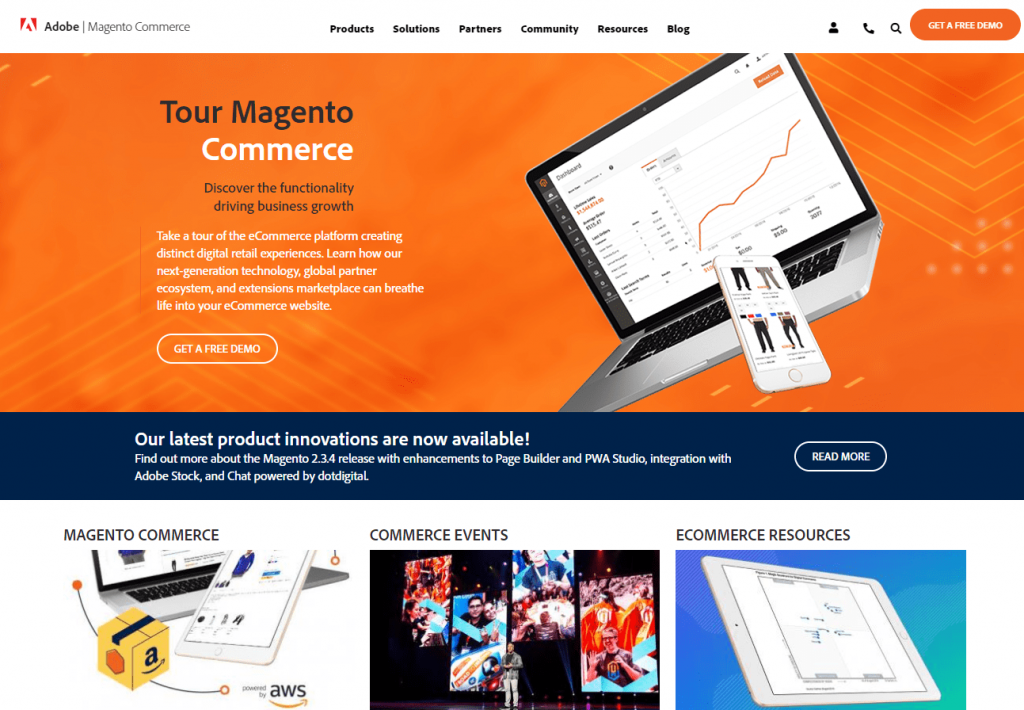 Pros 
Expandable and large capacity

User-friendly

Great SEO performance 

Abandoned cart recovery
Cons
Expensive, not suitable for small business owners
9. Weebly
If you are worried about not having tech knowledge, don't worry! For setting up your e-store, you do not need to be tech-savvy with Weebly. It is a straightforward eCommerce platform that enables you to construct a simple drag and drop e-store.
When you choose Weebly, you unlock various benefits with its features like integrated shopping cart, storefront access, automated inventory tracker, language detection tools, etc.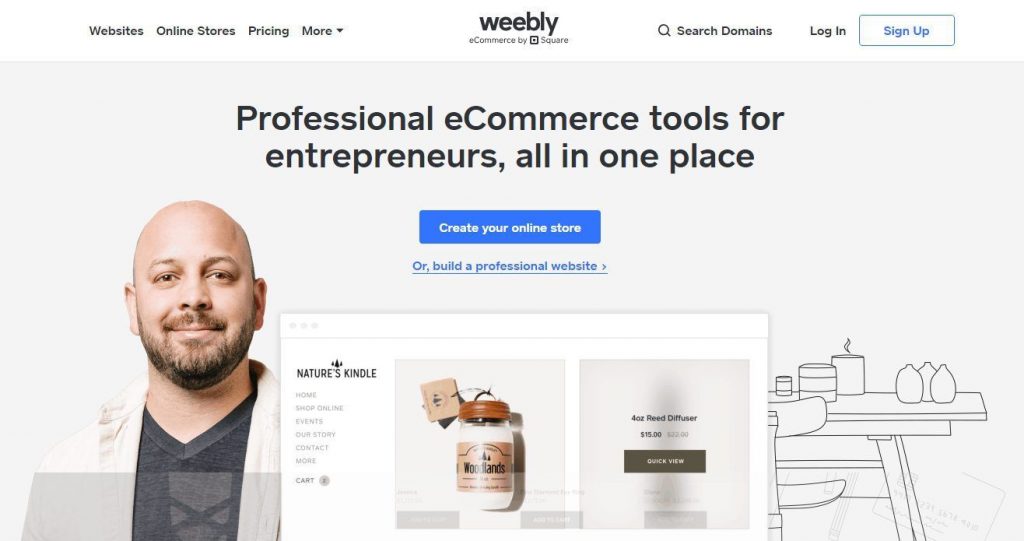 Pros 
Easy to use

Affordable option
Cons
Does not allow sales through multiple channels
10. GoDaddy
Optimum for beginners, GoDaddy is also one of the most common eCommerce platforms seen operating globally. The platform allows you to build a feature-rich e-store, providing you with maximum ROI. If you are looking to create an online presence for your business, you can consider GoDaddy.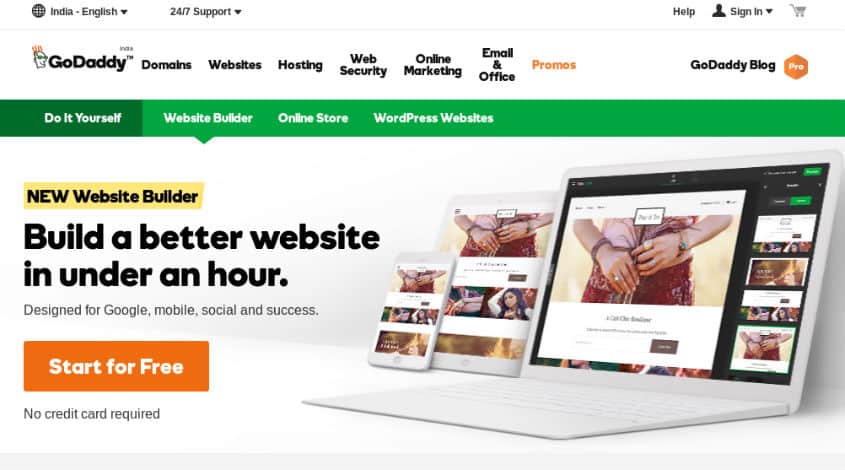 Pros
24/7 support

Good loading speeds

Automatic site creation
Cons
Expensive add-on features
Conclusion
Now that we've got a comprehensive comparison among the 10 best eCommerce platforms, you can choose the most suitable one and give your customers an excellent online experience.
However, while analyzing these options, make sure that you keep in mind the business's requirements, budget, and future perspectives. 
RecoSense
With an AI-first approach and strong expertise in AI frameworks, RecoSense is a one-stop partner for end-to-end Data Intelligence Solutions. Our industry-unique cognitive computing platform based on Natural Language Processing and Machine Learning frameworks offers Intelligent contextual interpretation of the Content & Users.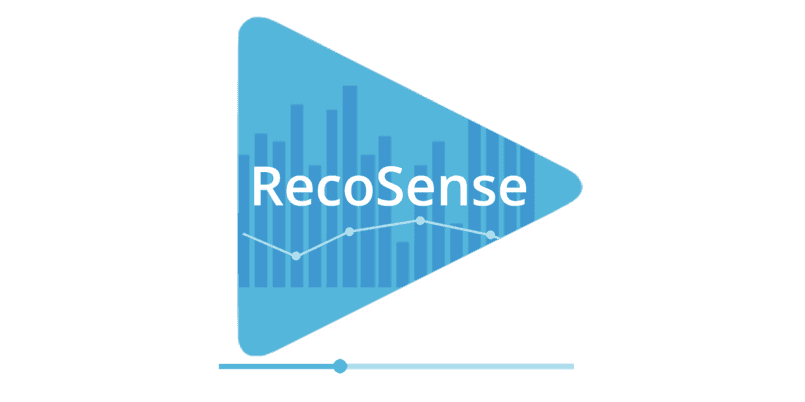 AILAB