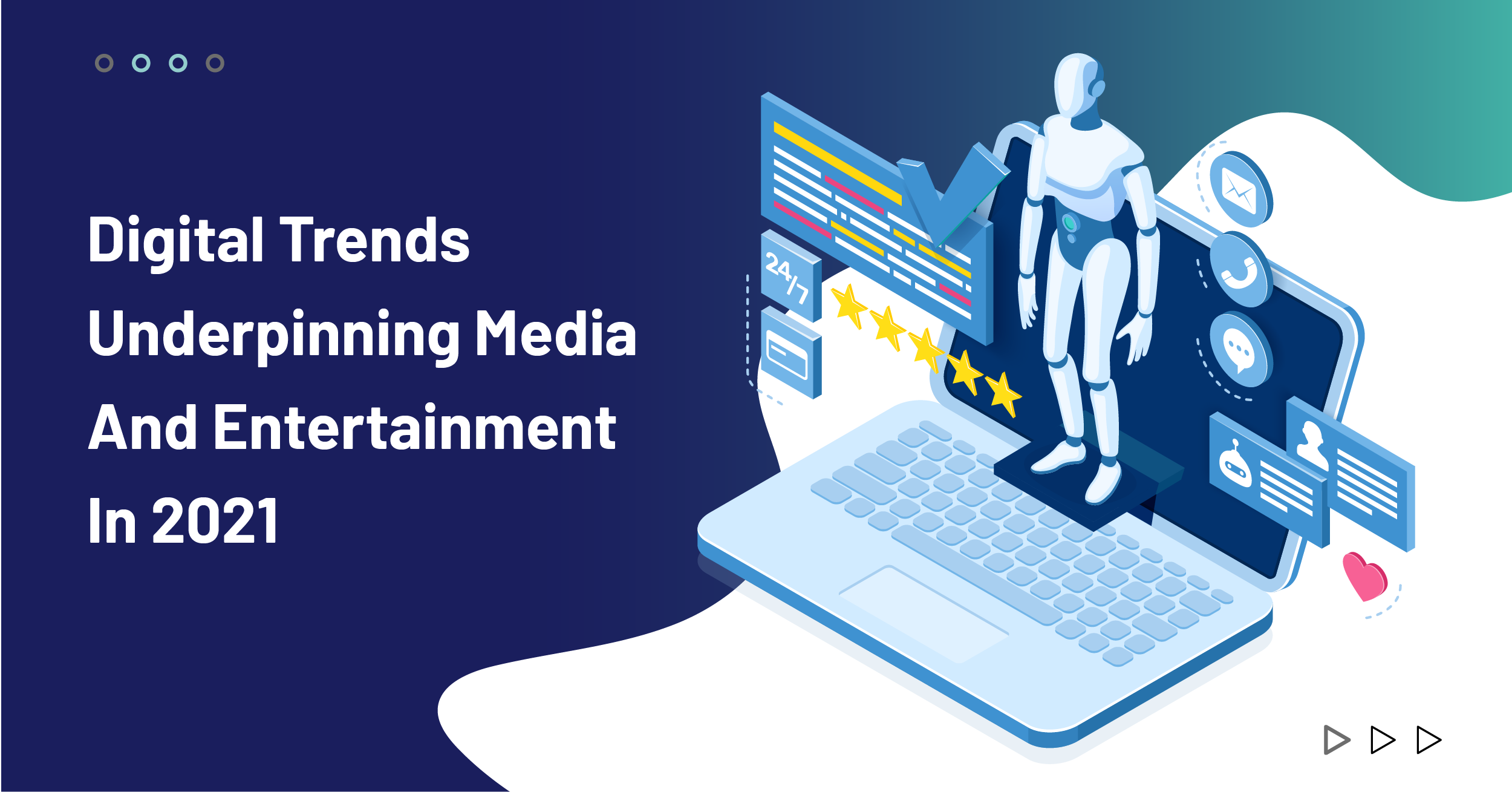 October 18, 2021

RecoSense
Digital trends have experienced significant shifts owing to the pandemic and the resultant lockdown period. This caused a massive expedition in the speed of digital adoption for consumers in 2020.
Digital Media Trends
1)
Video Streaming
Video streaming was imposed worldwide during the beginning of the lock-down.
2) OTT
OTT became a hot favourite among netizens because of its unique content and ad-free experience.
3) Augmented and Virtual Reality
Augmented and virtual reality exposed innovative technological frontiers in the media and entertainment industry trends.
Demand Side Trends
1) Digital Video Streaming
Video streaming was everywhere, and people staying home ditched their televisions for OTT platforms like Netflix, Amazon Prime, and Disney Plus for its versatile, entertaining, knowledgeable and quality content.
2) Digital Marketing and Advertising 
People prefer digital platforms for video streaming, media and entertainment as most of the content is ad-free. But since the competition is huge, digital marketing and advertising may just take over the experience soon.
3) Recognition of Customer Preferences 
Sophisticated Artificial Intelligence and Machine Learning algorithms paved the way for identifying and diligently using the predicted user behaviour. Customers feel connected when their tastes are personalised. For example, OTT platforms like Netflix let AI sharpen the edges around streaming service applications to know and recommend the kind of content that may grab the user's attention.
4) Safety and Security
The digital media industry is one of the most distrusted industries by customers, but AI and media industry trends enabled proper guarding of user data. This has brought forth transparent data collection applications that ensure customers' data security.
Supply-Side Trends
1. Technological advancements – AR/VR
Thanks to smartphones, AR adoption has been globalised and is pocket-friendly. AR/VR has led the global media and entertainment industry to unravel the latest technology frontiers.
2. AI, ML and NLP
Global Artificial Intelligence and its predictive powers have influenced every industry and have tremendously enhanced customer experience. The media industry holds huge data that requires AI – the cognitive and human-like dimensions of an individual to manipulate, understand and analyse it by integrating AI, ML, and Natural Language Processing.
This technology helps categorise the data, consolidating a business's predictive capacity and forecasting user engagement with the content.

AI, through video content, can identify and work on emotional changes on the user end.

AI results in considerable reductions in costs as the role of human intervention is hugely mitigated in automating editorials.
3. Digital Sports
The thriving e-sports industry, funded in millions by media rights and other sponsorships, using AR/VR to display the trending, has become the centre of attraction for many. 5G technology will enhance viewership, participation and enhanced legalised betting.
4. 

Blockchain 
Blockchain technology can settle debates and controversies once and for all, safeguarding the intellectual property rights of ownership management. Using record management, ownership rights can be traced to the original producer. It has also become easier to track transactions for royalty payments across platforms.
5. Enterprise Resource Planning 
In the age of automation and optimisation, AI-powered smart apps promote workflow optimisation, so media and entertainment industry trends focus on fine-tuning the application and applying an overall enterprise software for maximisation. This will help mitigate cost overheads, invest in the right tools and technologies and benefit the customers and investors. 
What More We Can Expect in 2022
Artificial Intelligence will be everywhere 
"Smart" is the new word that means powered by artificial intelligence (AI), which can help us in many unique ways and that generally works using machine learning algorithms to carry out everyday work. AI has enabled workloads to be reduced in all business streams and regimes.
Everything will be like a service with the no-code revolution 
2022 will be about democratising data and technology, tech-led innovation, cloud solutions for storage, reduction of network and processing mean costs and risks of setting up expensive infrastructure. There can be an explosion of "do-it-yourself" and self-service solutions. AI and IoT infrastructure will be deployed in each industry without using a cognitive code.
Datafication, Digitisation, And Virtualisation 
During the crisis-driven surge of 2020 and 2021, many remote working arrangements were made, and it is predicted this will remain the same, enabling the existence of a digital world just like the physical world wherein everything from work to play will be digitalised shortly. 2022 will enhance the prospects of this digitalised world
Governance, Transparency, and Accountability 
Humans need to trust the technology they are using and push back anything that can be dangerous, disruptive, conspicuous or negligent. The idea is to encourage AI that is transparent and explainable, and that has affected Governments. The trust revolving around AI will be discussed further in 2022 as more people are still sceptical about the positive and negative effects of AI and the related technological media industry trends.    
Sustainable energy solutions
 COVID-19 has delved into the importance of environmental sustainability, saving of renewable energy and eco-friendly business trends in practice. These together will shape their future in 2022.
Challenges for the Media and Entertainment Sector:
Emerging digital trends face many challenges. These include:
Distribution bottlenecks, which, even if widespread, are facing issues with the massive adoption of techniques and preferred stages.

The cost of context, especially revolving around ads. Nevertheless, AI has tried narrowing down on ads that will capture the viewer's attention while impacting user experience.

The ad mystery wherein digital media companies need to rethink their financing strategy – they must bifurcate it into two parts – content segregated for premium services and services driven by ads.

AR/VR aims to engage with consumers, but the content creator usually faces a lack of portability, convenience and effective user experience design.
Conclusion
Competition is intense when it comes to the digital media industry, and the consumer is spoilt for choice! The media industry is making all possible efforts to meet the versatile consumer demands, keep pace with the fast-changing trends, confer advancements in technologies, garner additional revenue, and provide a seamless entertainment experience. The industry thrives on augmented reality, virtual reality, or enterprise resource planning, and AI enables this genre to reach its pinnacle of glory.
RecoSense
With an AI-first approach and strong expertise in AI frameworks, RecoSense is a one-stop partner for end-to-end Data Intelligence Solutions. Our industry-unique cognitive computing platform based on Natural Language Processing and Machine Learning frameworks offers Intelligent contextual interpretation of the Content & Users.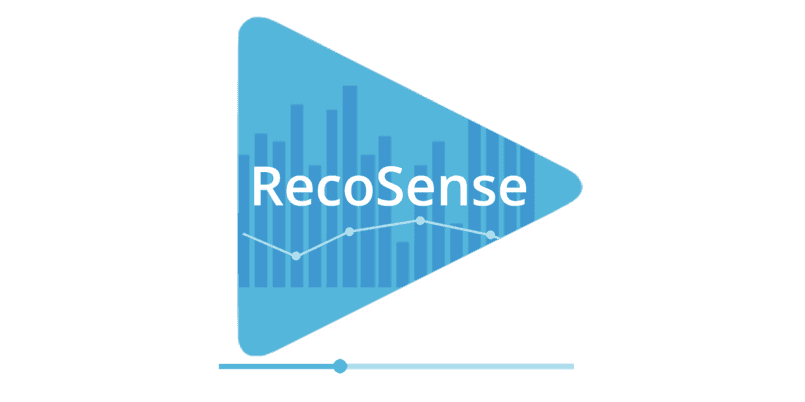 AILAB