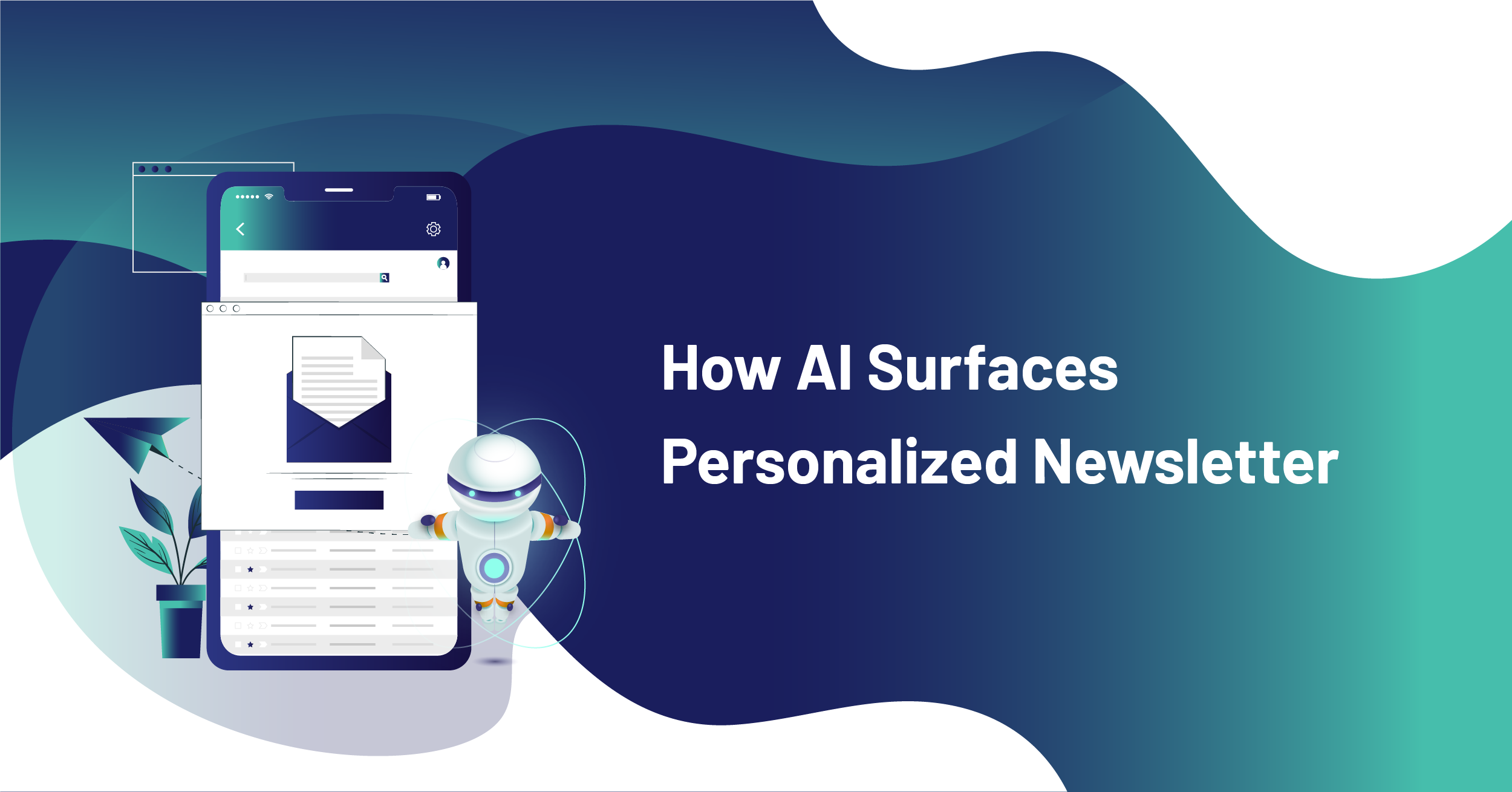 November 24, 2021

RecoSense
Digital marketing is rampant and inevitable, and sending emails has been an integral part of it. Sending personalised newsletter recommendations through email is a direct and cost-effective approach to garner higher conversions, spread brand awareness and boost favourable results for the business.
Artificial Intelligence plays a crucial role when it comes to sending personalised newsletter recommendations through email. The emerging trends in AI across various industries have improvised several processes. Email marketing has become more powerful and upgraded with the help of AI, and the results are even better.
Role of AI in Email Marketing

 
AI has taken email marketing to new heights and is undoubtedly the future. AI through email marketing generates revenues, decreases costs and accelerates sales. AI-powered tools help you send better emails, produce better results, conduct AI-powered searches, enhance open and click rates and help you make more money from email marketing campaigns.
AI is massively growing, leading to the unprecedented development of email marketing. AI follows these three steps to accelerate the email marketing process:
Detect:

AI has a solid feature of detecting and deciphering which elements of data are the most predictive ones, which ones to ignore and which ones to pay attention to.

Deliberate:

Further, AI analyses the most predictive attributes of the collected data and answers questions and makes personalised document recommendations based on it.

Develop:

Machine learning, an integral part of AI, helps in programming, and reprogramming can modify and analyse data based on experimentation and results of the extracted information.
Further,
AI analyses various email marketing campaigns and improves the daily performance and results of email marketing.

AI can provide better insights into the growth prospects and assist businesses in identifying new customers while retaining existing ones.

AI in email marketing strategies can enhance customer retention, better personalisation, smart segmentation, higher conversion rates and can boost customer gratification.
The Functionality of Artificial Intelligence in Email Marketing
AI-powered tools help in writing portions of emails and subject lines. It helps in optimizing send times and sending personalized information through emails to each lead. It can also help in cleaning up email lists and can automatically create email newsletters with unprecedented personalisation.
AI uses various technologies like ML- machine learning, NLP – natural language processing, deep learning, computer vision and more in email marketing to perform specific cognitive tasks better than humans.
For example, AI personalised document recommendations offered by Amazon and Netflix to offer products and movies you might like, making assumptions about your preferences.
Relevance of AI in Email Marketing
1. Optimizing Subject Lines
AI applies algorithms and generates attractive subject lines that can attract higher click-through rates. This application considers every marketing campaign before it optimizes your subject line over time.
2. Sending Personalised Emails
AI incorporates hyper-personalisation in emails that increase your overall customer engagement rates. Using predictive analytics, AI can apply complex algorithms, ML and customer data to predict the future behaviour of customers based on trends and previous interactions. This helps in creating customised emails that are personalized for each customer.
3. Smart Segmentation and Targeting
Segmentation is important in many areas, especially when subscribers have different choices, preferences and interests. AI and ML apply to segments that can bifurcate your subscriber list based on parameters like a position in the sales funnel, purchase history, geographical location, demographics, etc., to help you target your customers better. You can get access to accurate details of customers and their behaviors so that you can categorize them into distinct groups.
4. Optimizing the Email Sending Time
Too many or few emails can bring you at risk of being superseded by competitors. AI optimises the email sending time by scrutinising the user's activity history. Based on the downtime of the customer, his time zones and personal habits, AI can schedule the right time for sending the emails. For instance, Amazon uses AI for cart abandonment through email with an incentive of free delivery considering the privacy policy.
5. Improve Deliverability and Optimize Email Outreach
AI ensures that your email reaches its intended target and can use historical data to break your marketing campaign into sub-campaigns, then structure and deliver more targeted emails to maximise inboxes.
6. Product Recommendations
As per a recent report, big brands like Netflix and Amazon use AI in sending product recommendation emails to their customers based on their browsing, daily activity, choice of streaming/products, purchasing history, etc. This approach helps businesses to enhance their click-to-convert ratio on emails and the loyalty of the customer. For example, an email by Netflix recommending users for shows or series that they may have watched in the past considering the privacy policy.
7

. Deep Insight Into the Customer Lifecycle
AI and predictive analytics can extract customer data based on their behaviour and interests. Effective email campaigns can be formulated to inform and engage customers, eventually maximising the ROI and revenues.
8. The Role of Big Data
Big data can help in the personalisation and automation of an email marketing campaign. It helps businesses segment subscribers to create more personalised information through emails. It enables and analyses huge sets of data to avoid all the clutter that marketers make manually.
9. Create Smarter Newsletters Using Personalisation
Email newsletters contain personalised content curated for every single user, which improves subscriber engagement. AI automates hyper-personalised content through"smart" newsletters increasing reader engagement and providing rich insights back to the brand. AI can create a weekly newsletter that is personalised for every single subscriber, based on his preferences. This kind of segmentation is difficult for humans to manage.
10. Clean up Email Lists
AI-powered technology can clean up email databases, eliminate out-of-date contacts, update information about the user – for example, job titles, phone numbers and other information and improve deliverability.
11. Increased Engagement
AI technology aims to improve the email marketing process by cutting down the time from testing and allowing businesses to work with more combinations of messaging elements. This enhances conversion and revenues.
12. Discovering new segments
AI and machine learning help you discover new areas and subscriber groups based on basic information such as age, behavioural signals, location and purchase history that can be transformed into new and distinct marketing segments.
How AI Collects Data by Protecting Privacy
AI helps you identify and monitor the preferences of people who have their personal data anonymised. As soon as the data becomes part of a large dataset, AI can de-anonymise this data based on inferences from other devices and use high-end technologies like encryption and secure-server accessibility to maintain privacy.
It is a misconception that since AI uses personal data to make recommendations to businesses, the privacy and security of consumers may get affected. AI has the potential to enhance privacy protection. Organisations can reap the benefits of AI to accelerate data privacy to classify sensitive data across a data ecosystem.
AI uses compliance methods and ML techniques to protect this sensitive data. AI ensures the highest levels of customer privacy in streamlining interactions, especially when automation has become so rampant. It serves as the one-stop for managing data, so it helps constrict the data using standardised privacy practices.
To Wrap Up
Artificial Intelligence is a lucrative investment in email marketing that can improve your ROI and lead to optimum utilisation of resources. AI, NLP and ML have become an integral part of any email marketing strategy and ensure success in the long run of business.
RecoSense
With an AI-first approach and strong expertise in AI frameworks, RecoSense is a one-stop partner for end-to-end Data Intelligence Solutions. Our industry-unique cognitive computing platform based on Natural Language Processing and Machine Learning frameworks offers Intelligent contextual interpretation of the Content & Users.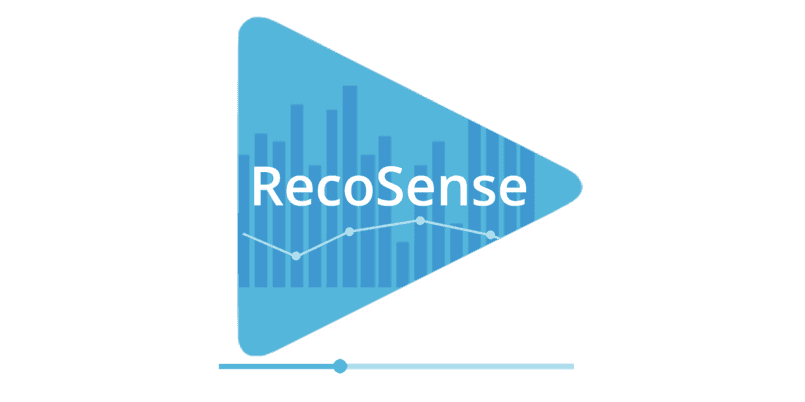 AILAB