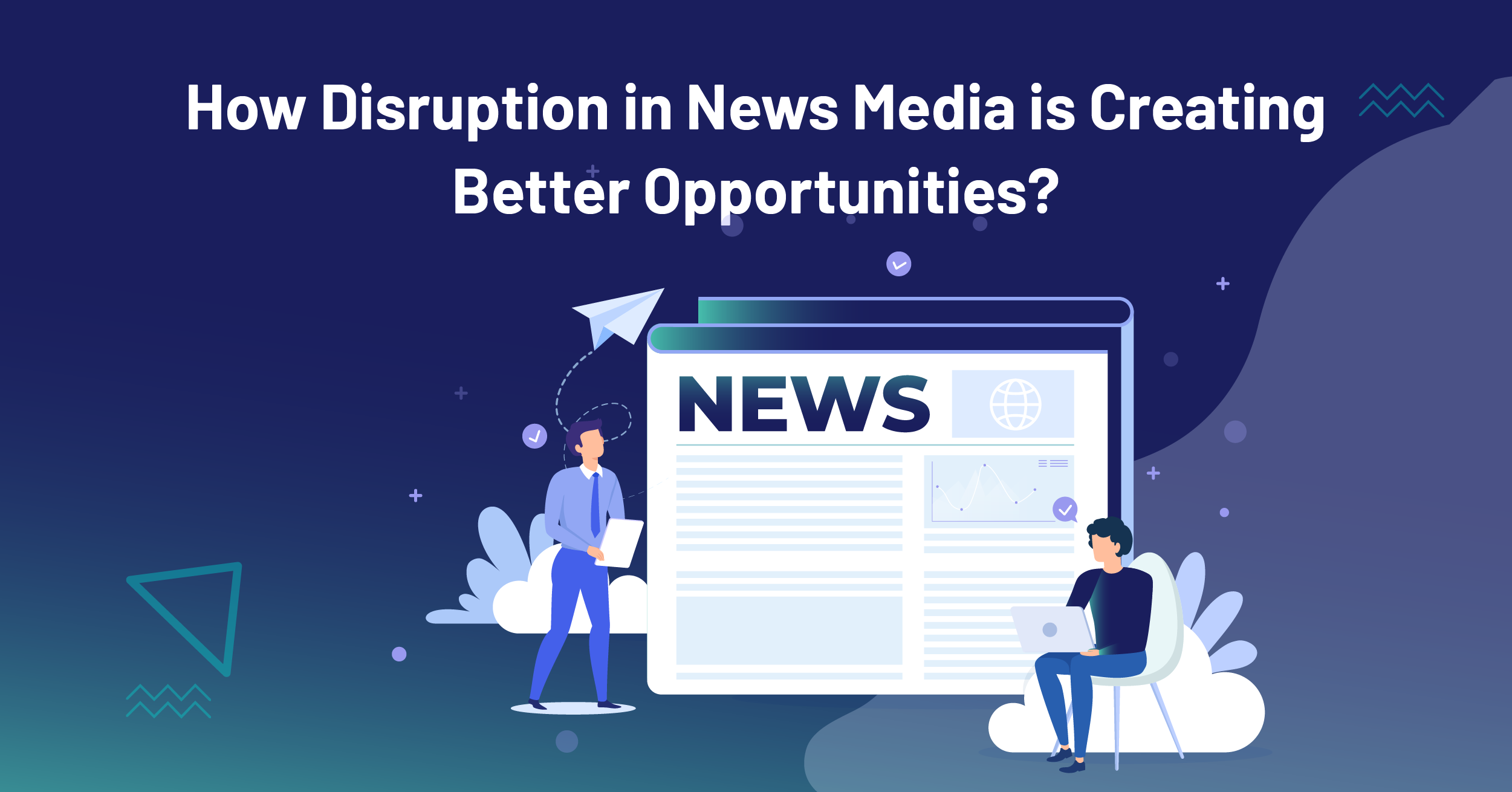 February 17, 2020

RecoSense
Disruption has gone a long way with the rapid use of technology as it has transformed the way the news is produced, delivered, and consumed across the world. Consumers have now become participants and users rather being only the readers and viewers. The news media have adapted itself with the pace of this evolution. From the latest cricket score updates, interviews, budget, weather, or opinion polls – disruption has changed the business models because of the rapid use of technology, social media, gadgets, automation of processes, or innovation with respect to products and services.
Disruption in news media has also changed the way people think and react. It engages people to adapt to new ways of communication. It also leads to the formation of new ideas and expectations and requires a journalist to be innovative and creative. It requires businesses to stay updated and ahead of recent trends and be desirable and competitive for their audiences. This creates an impact on the stages of planning, executing, and managing a communication strategy.
The big data analyzes the consumer interests, consumer behavior, and content marketing automation that play a key role in enticing the audience to actively participate through group discussions, forums, doing tweets or posts, leaving comments, or feedback beneath the news section page.
About News Media Stagnation
News Media in the form of advertising became popular in the United States around 1880 as a $200 million dollar industry. Across 40 years, it became a $3 billion dollar industry. Till 2019, news media is a 240.7 billion dollars industry, with digital media accounting for exceedingly half of the advertisement spent, and print media decline by 18%. in the 19th century, this wasn't the scenario. The news medium for advertising has changed dramatically as technology has gone more advanced, but digital is more promising towards educating users with the ready content in the right manner at the right time.
As per the 2018 Nielsen report, TV and radio are still active and at pace with 88% of media hours are spent watching TV and 92% of media hours are spent listening to radio per week. That is a consequential amount of time dedicated to those two traditional mediums, and it doesn't appear to be slowing down any time soon.
This article throws light on the problems caused due to digital disruption and laying down effective solutions with remedial measures. It also talks about the benefits of digital disruption through the digital transformation that has changed the journalism trend of advertising news from traditional to digital. The users will be able to learn about the opportunities brought by digital disruption in news media and how digital transformation has changed the way of engaging the audience with rapidly available content at the right time instantly. It will also discuss how RecoSense can help News Media in the disruption.
Problems surfaced between traditional media and Digital Media
What digital disruptions have occurred in News Media?
The virtual reality is the biggest disruptor to be seen in the media and entertainment industry today. With technologies such as Facebook 360 and YouTube 360 permits millions of consumers to interact and experience with content from distant away through very natural and immersive human experiences. The rapid availability of low-cost 360 cameras combined with dynamic streaming technology will further emulate the content creation by permitting people to create and distribute VR experiences without any special equipment.
As per Jennifer Cooper, director of the industry strategy in media and entertainment at Adobe:
"The biggest forces involved in disrupting media have resulted in the "tug of war" between linear, traditional and digital channels, and the consecutive monetization models can be put to use across linear and digital. The consumer expectations are propelling media companies to offer maximum digital content across all channels with access devices that continue to emerge. This leads to disruption in the audience measurement models and monetization".
How News Media failed to adapt?
The news media failed to adapt to the changing times of digital technologies due to a lack of innovation and evolving from its present state to a new way of serving content paradigm.
The new media landscape has demeaned the traditional model of print journalism that the Times clasp to nostalgically.  Readers now no longer give privilege to the news the way the newspaper package it for them.
Both the newsroom and the business sides remain concentrated on print subscribers who now account for a small percentage of readers. While desktop readers are six times as many, yet monthly home page visits collapsed by nearly half between 2011 and 2013, one of several remarkable data points provided by the news report.
Solutions to Digital Disruption
Leveraging Digital Disruption and emerging technological shifts
Digital disruption has brought digital transformation (also DX or DT) through the development of technologies which has created value for the news media industry and its customers in the best possible manner. It helps the industry to innovate and adapt to the changing circumstances.
Digital transformation drives the cultural, organizational, and operational change in the news media industry and its ecosystem through smart integration of digital technologies, processes, and competencies throughout all levels and functions in a coherent manner. In advanced countries like Japan where digital transformation is focussed to impact all areas of life with the country's Society 5.0 initiative, which goes away beyond the limited industry 4.0 vision in other countries.
One best shift through digital disruption can be seen actively in digital advertising that fundamentally changes the landscape for what comprises a feasible business model. For example, advertisers are willing to pay millions of dollars when it comes to YouTube videos and other content communication channels. This has given avenues for new digital technologies to transform how products are designed, the way consumer feedback is collected and examined, the way payments and funds are transferred, and where and how people travel.
Emerging trends like podcasting, videos are not sufficient
Even millennials are using news media channels to voice their opinion, educate the masses about their emerging start-ups, and promoting their business's products and services. The use of regular videos and podcasts keep the individual in limelight and gain public recognition and become a face value of their business. With its regular use, the individuals are able to develop their own brand and publicize their businesses and gain more clientele from across the World. Not only this, but news media is also tiresomely involved in covering the LIVE highlights from across the World whether the news outburst is related to any flood, riots, damage, or any issues cropping up in any segment.
Even though videos and podcasts are not sufficient to vocalize the news gathered from across the World. The news media is gearing up to bring a sea change in the distribution of content as podcasts still do not create enough content to attract the right type of audience that would sit down at a particular time such as 7 pm and watch CBS or NBC every night. The shorter content to listen via podcasts has given fumbling experience to many to check on their phones every few minutes to listen to the next episode which has not made the trend go for long. However, with the introduction of smart speakers have given access to the shorter length sub-five-minutes podcasts to play have actually atomized the audio content. Now, content is readily accessible while brushing our teeth, sleeping or commuting have optimized every part of everyone's day to day life.
Rapid emergence of AI and machine learning technologies
With the emerging technologies of AI and machine learning in the news media industry, the bulk data work is dedicated to audience understanding: the type of audience for which it has been designed to read, listen and watch the kind of media and entertainment content. Due to this, audience insight can easily be gathered that can inform anything from business strategy to marketing and content creation. The application of ML tools has turbo-charged the user experience as it can tag your image or text archive for a better search experience. 
The recommender system brings in relevant content to readers, watchers, and listeners. As creators are involved in developing new content, installing recommender systems that can autosuggest the image assets for articles for example: displaying such image assets without any copyright limitations to such target image. sequence-to-sequence learning can easily translate your content in one language to another (for example German to English) permitting your content to reach a distinctive audience more quickly. Even, representation learning at the crux of neural networks permits to make use of more unstructured data such as image and text data, more simplified unlocking novel and exciting use cases.
Benefits of Disruption through digital technologies
The introduction of digital technologies has lead to the reduction in the circulation of mainstream newspapers and the art of consuming news, accumulating and writing more democratized, the need for journalists to be active on the digital platform becomes essential.
It is only that a few newspaper houses understand the relevance of the digital platform which has maximized the opportunities in order to reach a wider readership, thereby investing in the human capital for the best delivery.
The events watcher in the industry has observed that in this era of media disruption, organizations today must likewise confront with opportunities and threats implicit in a couple of emerging technologies. They must administer a multitude of data-driven, tech-centric tasks such as social media analysis, audience measurement, and cross-platform app implementations.
In the same way, disruption benefits can also be witnessed in the following segments:
Digital transformation with personalized user recommendations
Digital technologies have changed the way people engage with news media content in the right way, at the right medium, and at the right time. Whether it is related to the interview of a favorite celebrity, breaking news, weather, political news issue, or sports – every type of content is accessible straightaway to them through their devices. No matter the language, it is accessible in all regional languages categorizing the content piece of their personal interest. This is actually known as personalization. The news media have changed so much that it seeks the opinion of people on a political issue or tragic event that makes the issue more strong for the judiciary to take action against it.
Disruption has leveraged personalization to increase re-engagement with the use of push-notifications. Using push notifications strategically remind the users about their app. Push notifications should be used in the right manner whereby too many useless notifications can easily annoy app users. Even irrelevant push notifications fail to increase the engagement of users.
In both cases, users could end up deleting their apps. Therefore, it is recommended to use segmentation and customize the message according to individual users. This will permit you to build different content strategies as per the type of profile you want to target. Also, incorporate the users' demographics (such as age, location, gender, etc.), favorites, or recently viewed items for example. This data will generate powerful and customized messages that will make the customers feel special as it will be a one-on-one conversation. This will particularly induce them to re-open their app and check out on the latest offerings.
Making News participatory using social media
The way users have changed the tools for getting the information, newsroom too has changed the tools to present the news and gather it. Facebook and Twitter have become heavily social media channels for making the news participatory among users. In this digital age where information can be disseminated quickly, there's no far much better tool to do it almost the same way that Twitter, Facebook or the news website does. It is clearly understood that no one is going to wait until 5 p.m newscast to watch the breaking news story that happened at 2 p.m.
Even Live streaming has also emerged as the latest example of how users have started expecting a personalized experience while viewing the content online.  Hulu, Roku, and Netflix have changed the ways to engage the audience and offer them a niche personalized version of what they want and when they want.
As per James P. Mahon, a news reporter at Chattanooga, Tennessee's WDEF News 12, "During breaking news and extreme weather situations, we can bring emergency press conference info straight to the viewers who need it." This lead to informing the users about the immediate happening occurred at the time when they are busy watching other news.
New ways of growing subscriptions – A massive shift in Journalism
Disruptions of news media are in the league of distributing meaningful content to the audience and monetize it in a better manner. The users are keener to pay for direct access to premium, high-quality content instead of settling for free programming that used to be subsidized by advertising. Various publishers continue to fight for attention by creating compelling content just as the value of these efforts reduces; no matter changes the game.
The quantity game has become more of the quality game, and only the best content administrator, whether media companies or marketers who have achieved subscribed users will proper in the attention economy.
The lower capital costs of digital publishing with free access for readers helped drive the demand from users and established digital as the basic distribution platform. Digital content production volume was greatly influenced by search engine algorithms. The model was expectedly elastic-creating more content, hence building wider audiences and earning more revenue.
NYTimes.com is known to be good for deeper engagement for its subscription business. According to Jeff Bezos in an interview on Washington Post business: "We attempt to be customer-centric, which in the case of The Post means reader-centric."
Moreover, the Ponyster Institute has indicated the shift as the "service era" of journalism, where the journalism is paid for the readers, by readers. The Atlantic's How to survive the media apocalypse, later on, endorses this journey forward, suggesting that digital media should welcome the rise in reader subscriptions and effectively hinge on monetization strategies.
Leverage real-time, viral, and brag-worthy news
With the deployment of powerful algorithms – artificial intelligence, machine learning, and Google algorithms optimize the real-time, viral and brag-worthy news to be on the top of the page before the user visits the website or app. It has effectively given competition to many news segments to be updated from all categories with the latest updates or breaking news to be displayed or showcased through videos on the main page.
With traditional news media have only confined to print have compensated the loss endorsed towards digital media through digital technologies. The digital transformation has been able to gain wide viewership access with a high engagement rate.  It has not only personalized the news content but to due consistent emergence in technologies, has successfully been able to deliver the updated news in the niche segment to a particular user in the right way, at the right time, at the right device.
How RecoSense can help News Media?
RecoSense with the deployment of AI assists digital publishers in personalizing their user experience with an expandable search and intelligence delivery platform. It helps users to access content with respect to their personalities, topics, and categories of search without any direct input. Furthermore, RecoSense can help News Media in the following ways:
Automated Metadata Generation for video and text articles.
Delivering personalized suggestions to every user through the home page, category page, content detail page, In-video suggestions etc.
Delivering  highly significant search queries
Increase in audience engagement through multiple ways of In-video suggestions via video player plugin.
Making them understand the reactions and behaviors of your user segments to the contents displayed in front of them through Analytics and User Insights.
Makes the users engaged with personalised notifications through push notifications, emails of the live updates, movies or genres.
RecoSense
With an AI-first approach and strong expertise in AI frameworks, RecoSense is a one-stop partner for end-to-end Data Intelligence Solutions. Our industry-unique cognitive computing platform based on Natural Language Processing and Machine Learning frameworks offers Intelligent contextual interpretation of the Content & Users.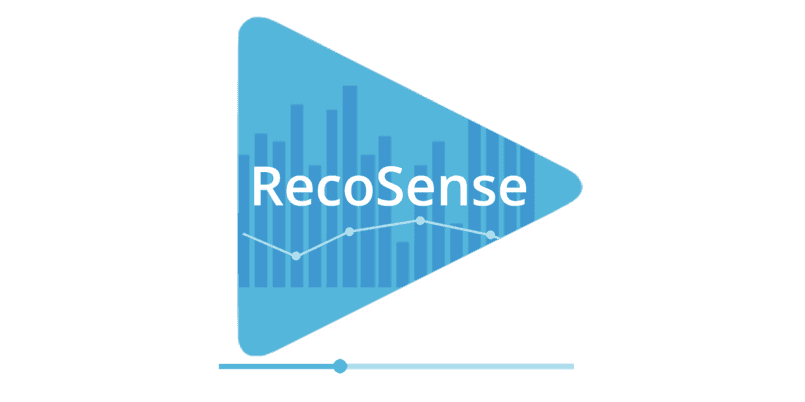 AILAB