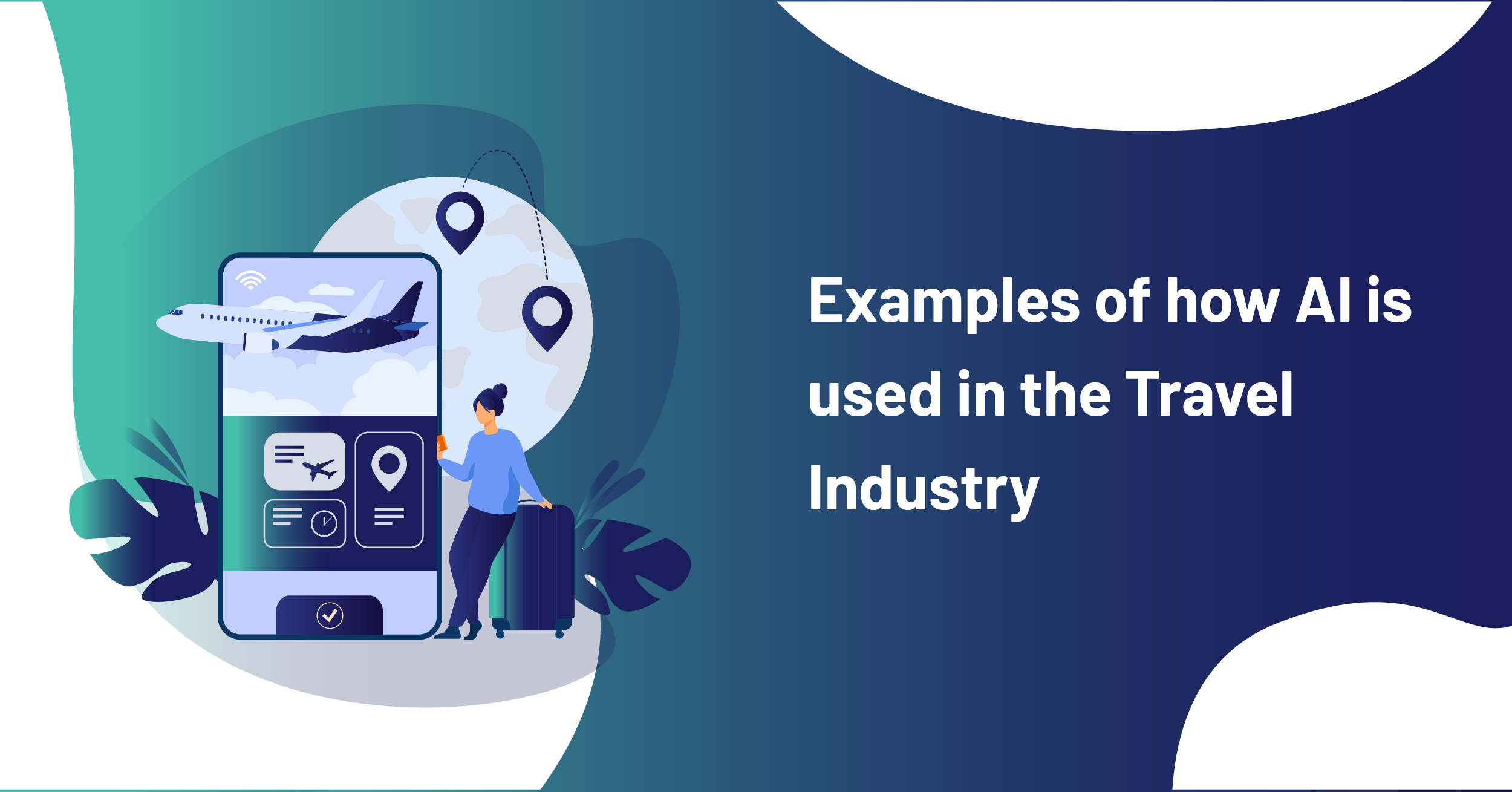 December 17, 2021

RecoSense
In this modern era, access to Artificial Intelligence in the travel industry is quickly evolving to make the client experience enjoyable. It results in many tourists using AI-based travel applications from their mobile phones for instantly planning a holiday trip and involves activities like scheduling flights, booking hotels and planning the trip's itinerary.
Further, Artificial Intelligence is constantly evolving, making it more secure and lucrative as a business solution. Companies in the travel industry are now seeking the advantage of advanced AI in tourism to perform several managerial and client service tasks.
Common Examples of Artificial Intelligence in the Travel Industry 
While computer science has existed for ages, it is only recently that Artificial Intelligence has grown and become competent enough to accomplish complicated jobs without manual supervision. Mentioned hereunder are some common AI examples in the travelling industry.
Rendering online client assistance is perhaps the most compelling use of Artificial Intelligence for hotels and other tourism companies. With most data spontaneously available online, clients anticipate fast reply times from any company's customer service.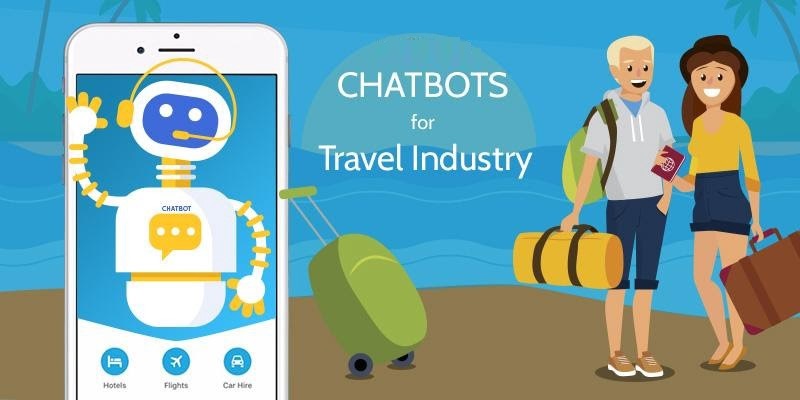 AI-powered chatbots on dedicated instant-messaging apps and social media business pages can reply to issues and present valuable information to clients even when there is no human staff available. In addition, AI in tourism enables travel companies to deliver client service reply times that would be impracticable for humans.  
Robotics is the most transcendent application of AI and one of the best examples of Artificial Intelligence functions within the travel industry. It includes face-to-face client assistance communication with artificially intelligent robots. 
For instance, Connie, a robot at the famous Hilton Hotels, employs AI and voice recognition to present information to any client who speaks to it regarding traveller information. In addition, the future quality of interaction between hotel clients and AI robots usually increases as the robot can learn and memorise from every social interaction.
Data Analysis and Processing
Human beings are prone to making a few mistakes when filtering through and examining large amounts of information. Artificially intelligent devices can perform the same job much quicker, cheaper and with no errors. 
Also, the widely prevalent and effective use of AI within the tourism industry is collecting and preparing extensive amounts of data to develop business strategies and resolve client requirements.
Evaluations of Flight and Hotel Prices
Flight prices and hotel rates fluctuate regularly as per the supplier and the expectation of the purchase. No one can track all these modifications manually, so today, the artificially intelligent tools that control and convey timely alerts with exciting offers are in high demand in the tourism industry.
For example, the AltexSoft Data Science team has built an innovative rate forecast tool for a universal travel agency. By working on their principal product, a digital tour booking website, they were equipped to access and accumulate historical information on millions of rate searches for numerous years. 
Also, with such information, they produced a self-learning algorithm able to foretell the future campaigns' costs based on various factors, such as demand growth, seasonal trends, airlines special offers and advertisements.
Latest AI Trends in the Industry in 2021 

The travel industry constantly prioritises digital transformation to adapt to the 'new normal' caused by the global pandemic. Also, the sector has seen an accelerated rise in technology adoption in the past year. 
Moreover, this trend will remain constant in 2021 as the travel industry seeks ways to improve from the past year. Mentioned hereunder are some of the latest AI trends for 2021 and beyond. 
The IoT (Internet of Things) carries the potential to drive notable changes to the tourism sector. It has held a commitment for some time now, but with 5G technology in development, machines will be more agile than ever and more connected to one another. 
The IoT (Internet of Things) includes internet-based connectivity between networks. These machines build an interface that converses and generates data that you can use to improve effectiveness across an endless amount of operations in travel businesses.
While blockchain technology principally remains associated with finance, its power to help transform tourism operations is starting to get realised. It guarantees that data remains decentralised, allowing data sharing across a peer-to-peer interface. 
Moreover, data is not only decentralised; it further remains time-stamped and inevitable, ensuring that it is more reliable, verifiable and understandable. In addition, blockchain holds numerous potential applications in the tourism sector. 
Primarily, blockchain's decentralised nature facilitates effortless tracking of luggage that usually changes hands various times throughout a journey. Next, it can present a system for safe, traceable payments. Travel companies can further use it to store client data and enhance identification assistance in airports, potentially reducing queues and check-in times. 
In the present times, the demand for employing voice assistance has grown more prevalent among individuals for obtaining things faster. With this enhanced comfort level, more and more people choose virtual artificially intelligent chatbots to schedule transportation tickets at an affordable price.
It should allow tourists to bid for the best flight ticket, hotels and taxi rides, departure time using the hands-free, intelligent speakers within a flexible time plan. Essentially a client or businessman requires using an AI-based smartphone, in-vehicle infotainment system and smartwatch to handle the trip plans at ease. 
Alternately, the tourism business can access different artificially intelligent channels to communicate with a travelling customer effectively. 
The tourism company can leverage artificially intelligent and machine learning mechanisms to serve customers concerning their exotic requirements and personalise vacation packages more exclusively. It will give the AI in the travel industry a way to collect all the travel destination information in a more personalised manner. 
The essence of the machine learning technique remains apparent in the travel business whenever a client succeeds in distinguishing search patterns from a voluminous amount of data. Furthermore, on routine practice, working with destination information, the clients are pushed on the edge of discovering exquisite travel ideas through travel website examples.  
The Bottom Line
In a nutshell, Artificial Intelligence trends is transforming the travel industry and presenting new ways to engage with target customers. Also, most travel brands remain focused on building unlimited travel experiences for their clients before their tour and just after the journey gets complete. However, these trends encourage travel app development businesses to focus on their customers even after their trip to retain them as clients.